Greater South Jersey Chorus
About Us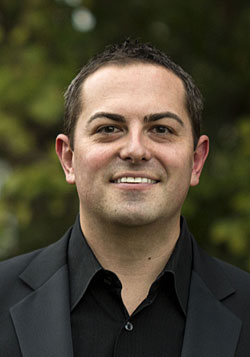 GSJC Director, Chris Thomas
Director's Message
Greetings to our GSJC family and friends!
I am very excited and honored to begin my first full year with Greater South Jersey Chorus as Artistic Director, guiding our 25th anniversary year. As an important part of New Jersey's musical scene, GSJC looks forward to enriching our region's artistic community with beautiful music.
On the administrative side, the board is building stronger connections to community leaders and businesses with renewed energy and enthusiasm. Beyond our traditional reach, the board is exploring ways to launch a community school for lifelong music making. Artistically, we are dedicating significant energy and resources to concerts that will delight and educate our singers and audience members alike.
Our major performances this year include a collaboration with Symphony in C in a performance of Handel's Messiah. Under the baton of Stilian Kirov, our partnership with the premier orchestra in South Jersey will bring this incredible and familiar work to life. This concert is not to be missed! In addition, the chorus will perform holiday favorites with organ and brass. This joyous, celebratory concert will include works of American composers Randol Bass, Mack Wilberg, and Dan Forrest and feature Daniel Pinkham's Christmas Cantata. The spring will culminate in a performance of Haydn's The Creation. This thrilling depiction of the creation of the world with a libretto by Gottfried van Swieten's, performed with full orchestra and professional soloists, will be a milestone musical experience for our choir.
Along with our major performances, we are also excited to present an Artist Showcase in the fall and Cabaret in the Spring. New this year will be Vino Forte- our Wine and Cheese gala in March. Pairings of choral music with wine and cheese will produce an entertaining—and delicious—evening. This unique and progressive performance will be the talk of the town, so please plan to join us.
This 25th anniversary year is truly exciting and something to sing about!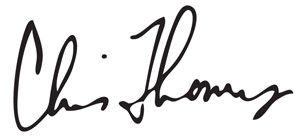 Greater South Jersey Chorus History
Established in 1992, Greater South Jersey Chorus (GSJC) is an auditioned, mixed voice ensemble embracing a diverse range of choral genres that has earned widespread respect for its richly varied repertoire, beautiful sound, and thoughtful interpretations. Singers perform in the full chorus and a smaller chamber ensemble, representing a vibrant mix of amateur and professional musicians drawn from throughout the Delaware Valley. Greater South Jersey Chorus is a 501(c)3 nonprofit, singer-managed organization. A board of trustees composed of chorus members and community professionals is its governing body. In its 25th anniversary year, the chorus remains committed to bringing quality musical performances to a broad audience throughout the region in addition to expanding our community service initiatives in the area.
The chorus focuses on performing large masterworks with esteemed orchestra and guest soloists from the region. Recent performances include works by Bach, Orff, Handel, Mozart, Lauridsen, Poulenc, and Gjeilo. Performances also feature a broad range of multicultural, traditional, and contemporary choral pieces. GSJC has premiered several original compositions by former Artistic Director Dean Rishel, noted composers Frank Staneck, Michael Hegeman, Michael Karmon, and, most recently, a commissioned work by Bob Chilcott.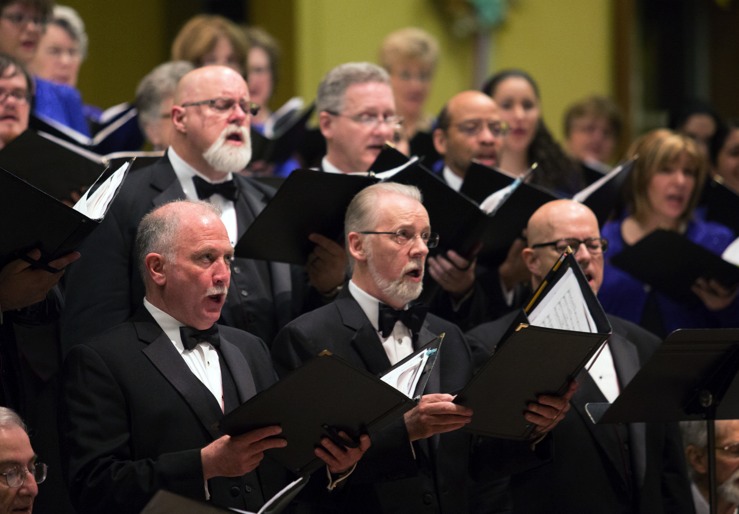 An active organization that performs with pride and distinction, the chorus has had the honor of appearing at Carnegie Hall, the National Gallery of Art, the Smithsonian Institution, and Longwood Gardens. Other collaborations include concerts with Symphony in C and Bay Atlantic Symphony. GSJC is proud of its outreach programs to bring choral music to local schools in underserved areas through its relationship with the Catholic Partnership Schools of the Diocese of Camden. As official Artists in Residence at the Haddonfield Center and School for the Performing Arts (HCSPA) beginning in 2014, we partner with the center, which has become our rehearsal home and a frequent performance venue. Maximilian Esmus, Artistic Director of HCSPA, lends his talent and musical expertise as our accompanist.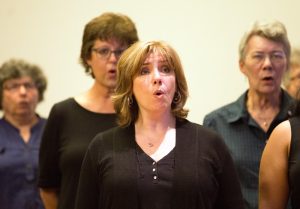 GSJC has been privileged to be under the baton of several esteemed choral conductors over its 25-year history. Past artistic directors include, most notably, Dean Rishel, who led the chorus for more than 15 years; Dr. Heather Buchanan; and Dr. Jason Bishop. In the spring of 2016, we were delighted to welcome Dr. Christopher Thomas as our newest artistic director. In addition to his role at GSJC, Dr. Thomas is Director of Choral Activities and Assistant Professor of Music at Rowan University. We look forward to a rich and rewarding creative partnership with Dr. Thomas and are delighted to benefit from his energy, skill, and musical talents at the podium as we celebrate this special anniversary year.
Looking back on the richness of the past and ahead to a vibrant future, the board of trustees, artistic director, and singers of Greater South Jersey Chorus excitedly anticipate more performances of great choral literature for audiences who continue to grow in appreciation and support of our music.
Why We Sing
Greater South Jersey Chorus brings a culturally diverse, multilingual repertoire of music to the region to entertain, educate, and enrich our community. Our December and May concerts delight audiences of all ages with music ranging from the 15th century to the present. Profoundly moving major choral works accompanied by orchestra and professional soloists are a priority in our yearly programming.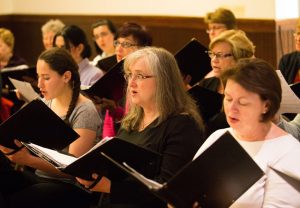 The members are devoted to the chorus because we enjoy making music and experiencing the sense of community GSJC brings to our lives. We come from many different backgrounds and hold a variety of beliefs, but our shared love of choral music, our hunger to learn more about the art of singing, and our joy at delivering beautiful concerts to our growing audiences bind us together in an uncommon sense of unity treasured by all.
Greater South Jersey Chorus is the Ensemble in Residence for HCSPA, located at Grace Church in Haddonfield, where we rehearse.
HCSPA
Grace Episopal Church
19 Kings Highway East
Haddonfield, NJ 08033