Greater South Jersey Chorus
Leadership
Leadership
The Artistic Team
Singers in Greater South Jersey Chorus are proud to be led by Dr. Christopher B. Thomas, Artistic Director and his talented colleagues including Maximilian Esmus, Accompanist, and Ken Ewan, Assistant Conductor. Every year our chorus welcomes conducting interns, who practice their craft guided by Dr. Thomas.
Christopher B. Thomas
Artistic Director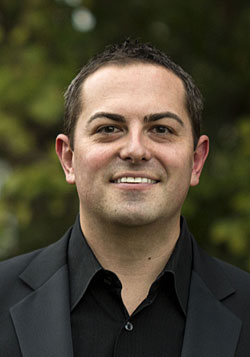 Christopher B. Thomas, Artistic Director of Greater South Jersey Chorus since January 2016, is Director of Choral Activities and Assistant Professor of Music at Rowan University in Glassboro, NJ, where he conducts the Rowan University Concert Choir and Voces XII, and teaches undergraduate and graduate courses in choral conducting and choral literature. Under his direction, the Rowan University Concert Choir has performed throughout the Czech Republic, Poland, Hungary, and Italy. The choir was recently invited to participate in the regional American Choral Directors Association conference in Boston, and the ensemble toured Germany and Austria during the summer of 2016. Notable recent performances include Hodie and Five Mystical Songs by Ralph Vaughan Williams; Handel's Messiah; requiem masses of Cherubini, Duruflé, and Fauré; Orff's Carmina Burana; and Misa Criolla by Ariel Ramírez. The choir has also performed several world premieres, including Circulo de tiempo by David Martynuik and Song of the Shulamite by Donald McCullough.
Recently, Thomas was assistant conductor of Varna International Music Academy's performances of Haydn's The Creation in Varna and Dobrich, Bulgaria. He will return in the summer of 2017 to serve on the conducting faculty for a performance of Mozart's Requiem. Domestically, his guest conducting engagements have included regional choirs in Delaware, New York, New Jersey, Pennsylvania, Vermont, Illinois, and Texas. Thomas has presented at international, regional, and state scholarly conferences on choral literature, pedagogy, and philosophical and historical topics. His dissertation, "Antonín Reicha's Missa pro defunctis and the Nineteenth-Century Concert Requiem," culminated with the fourth-ever performance of Reicha's choral-orchestral requiem setting.
Currently serving as president-elect of NJ-ACDA, Thomas received a B.M. in Music Education from Millikin University, where he studied with Brad Holmes and graduate degrees (M.M. and D.M.A.) in Choral Conducting at the University of Arizona under the direction of Bruce Chamberlain.
Thomas is happily married to Jessica, also a musician. The Thomases live in Glassboro, NJ, with their son, Greyson, and daughter, Elandra.
Maximillian Esmus
Accompanist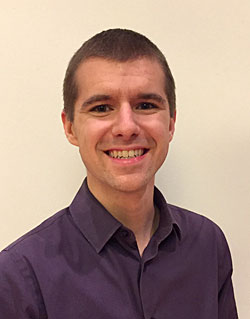 Maximillian Esmus serves as Director of Music at Grace Episcopal Church in Haddonfield, NJ, where he conducts the adult and youth choirs and accompanies services on the organ and piano. He is also the Artistic Director of the Haddonfield Center and School for the Performing Arts, a growing nonprofit organization that presents an eclectic concert series and diverse educational programming in the arts. Esmus teaches piano students of all ages at his position on the piano faculty of Rowan Prep, Rowan University's community music school. He has performed as accompanist with the Indiana University of Pennsylvania choirs, the Rowan University Concert Choir, and has accompanied Greater South Jersey Chorus since 2014.
In May 2014, Esmus completed his Master of Music in Choral Conducting at Rowan University in Glassboro, NJ, where he was assistant conductor of the Rowan Statesmen Men's Chorus and the WOCHO Women's Chorus. Esmus earned his undergraduate degree in music theory and composition with concentrations in piano and organ from Indiana University of Pennsylvania. He received first prize in the school's Chopin Piano Competition as well as a number of music scholarships, including the Carol Teti Memorial Organ Scholarship. In much demand as a collaborative pianist and organist, Esmus regularly accompanies student recitals, school choirs, and local musical theater productions. He traveled with the Rowan Concert Choir during its 2013 tour of Eastern Europe, performing on a number of historic organs in Krakow, Poland, and Budapest, Hungary. As a composer, his interests currently include writing and arranging for organ and four-hand piano duet, as well as sacred choral works and hymn settings. Esmus currently resides in Glassboro, NJ.
Kenneth Ewan
Assistant Conductor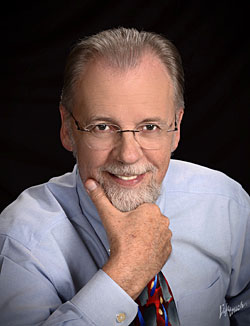 Kenneth Ewan is Music Director Emeritus of the Unitarian Universalist Church in Cherry Hill, NJ. He retired after 45 years as music director of several churches in the Delaware Valley. In demand as a consultant to area Unitarian Universalist churches, Ewan continues to sing with and accompany many vocal groups. Also a saxophonist, he performs jazz and classical styles. In addition, Ewan heads the Greater South Jersey Chorus Catholic Partnership Schools program for mentoring young choristers. A retired professor of music and choral director for both Camden and Cumberland County Colleges, Ewan was a teacher and choral director in the New Jersey and Pennsylvania school systems and was owner, director, and teacher of the Gloucester County Conservatory of Music in Woodbury, NJ. He did his graduate work at Westminster Choir College under Dr. Joseph Flummerfelt, Dr. James Jordan, Dr. Andrew Megill, Allen Crowell, and Robert Shaw. He studied voice with Ann Gray and Charles Walker, and he has sung with numerous groups, including the Germantown Choral Society, the Robert Shaw Festival Chorus, the Westminster Festival Chorale, Lauda! Chamber Singers, and Haddonfield MasterChorale.
As a member of the Unitarian Universalist Musicians Network and the American Choral Directors Association, Ewan regularly leads festival choirs, choral conferences, and workshops from Vancouver, Canada, to Florida and New England, where he works with choral professionals including Dale Warland, Dr. Jo-Michael Scheibe, and Anton Armstrong. He led choral professionals at the Salt Palace for the Unitarian Universalist Association General Assembly in Salt Lake City, as well as a performance of the jazz cantata, "For This We Stand," scored for choir, soloists, and jazz ensemble, written by acclaimed composer and jazz performer Jim Scott, formerly of the Paul Winter Consort. Ewan has long-term choral directing collaborations with members of the Delaware Symphony, Bay Atlantic Symphony, Haddonfield Symphony, Garden State Youth Symphony, Westminster Brass, and Seacoast Brass.
Ewan was honored with the Unitarian Universalist of the Year Award in 2015 for his continued outstanding work in promoting quality music programs in the Unitarian Universalist faith as music director, conductor, performer, and teacher, as well as his work spreading the importance and joy of music in the community.
James T. Fryer
Conducting Intern
James T. Fryer graduated from the University of Delaware (UD) in 2014 with a B.M.Ed. degree in Choral Music Education. In 2011, he served as conducting intern for the St. James Cathedral Choir Camp in Seattle, WA. Fryer traveled around the world with the UD Chorale, performing at the 2013 ACDA Convention in Dallas, the 2012 ISME Conference in Thessaloniki, Greece, and the Béla Bartók International Choir Competition in Debrecen, Hungary.
Currently, Fryer is the choral director at Neptune High School in Neptune, NJ, where his vocal groups have received state and regional accolades. He is thrilled to be part of the 2016–2017 GSJC artistic team and would like to thank Dr. Thomas, and the entire chorus, for this opportunity.
Julianna LoBiondo
Conducting Intern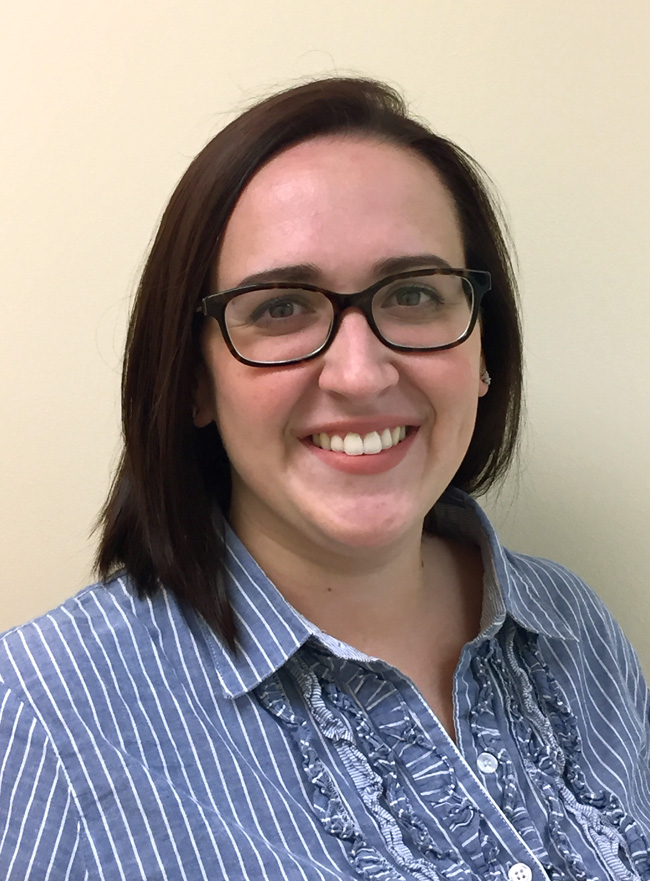 Julianna LoBiondo graduated from The College of New Jersey with a B.M.Ed. with a concentration in voice. She sang with the TCNJ Chorale and Women's Ensemble under the direction of Dr. John Leonard in performances throughout the region, including multiple concerts at Lincoln Center. While an undergraduate student, LoBiondo served as the student conductor for the Women's Ensemble as well as the assistant conductor for TCNJ Lyric Theater, where she prepared all the chorus excerpts for the company's performances of Gluck's Orfeo ed Euridice.
LoBiondo is currently the Director of Choral Music at Hillsborough High School, where she conducts the Mixed Chorale, Women's Chorale, and Concert Choir. She has prepared the choirs to perform at various festivals and concerts, including the performance of Tim Janis' An American Christmas Carol at Carnegie Hall alongside Neil Sedaka, Sarah McLachlan, Zachary Levi, and Alex Boye. Under her direction, the Hillsborough High School choirs have received Superior and Gold ratings from festivals along the East Coast.
The Board of Trustees
Chosen by the membership and drawn from both the chorus and community, the Board of Trustees meets monthly to make financial, marketing, personnel, and fundraising decisions.  These dedicated people spend hundreds of hours on a variety of working committees each year ensuring that the chorus is thriving and running smoothly.
Fran Orodeckis, President
Sharon DeStefano, Vice President
Elyse Viana, Secretary
Donna Duncan, Acting Treasurer
Marna Carlton, Trustee
Donna Duncan, Trustee
Kathy Farinaccio, Trustee
John Gleason, Trustee
Margaret Van Meter, Trustee
John Vovak, Trustee
Mary Helen Wieland, Trustee
Mary Willard, Trustee
ADA Accommodations

Greater South Jersey Chorus (GSJC) does not discriminate on the basis of disability in admission or access to, treatment of or contracting of, its services, programs or activities. Upon request, accommodations will be provided to allow individuals with disabilities to participate in GSJC services, programs, and activities.