Something to Sing About!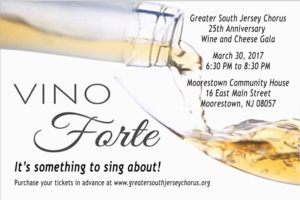 Greater South Jersey Chorus (GSJC) will celebrate 25 years of fine choral music at Vino Forte, a fundraising gala in Moorestown on Thursday, March 30 at 6:30 PM. The Vino Forte gala at the Moorestown Community House is an opportunity to share four courses of lighter (even sometimes hilarious) music, paired with wines and cheeses from fourregions of the world. Specially selected for this happy occasion, two pieces will be performed by the GSJC Chamber Singers, an elite ensemble from within the chorus ranks. The rest of the musical feast will be delivered by the 90-voice full chorus.
Attendees will enjoy the opportunity to meet talented artistic director, Dr. Christopher Thomas, and chorus accompanist, Maximillian Esmus, as well as mingle with chorus singers and trustees. Many longtime sponsors will attend the gala to express their continuing support of the chorus.
Vino Forte tickets must be purchased in advance on the chorus website: greatersouthjerseychorus.org. The ticket price of $75 includes all food and beverages. Silent and live auctions will add dimension to the evening and help provide additional funding for the chorus.
Greater South Jersey Chorus has been bringing the best of choral music to the South Jersey region for over 25 years, and this anniversary year may be their most impressive yet. "Our 25th year has been filled with extraordinary events that began with our Artist Showcase, and an important new partnership with Symphony in C, when we sang Messiah with them in December," said Artistic Director, Christopher Thomas. "We look forward to our next several, very different events, including our annual Cabaret on March 4 and Choral Pops on March 18, both at GSJC's home at Haddonfield Center and School for the Performing Arts, the Vino Forte gala on March 30, and The Creation on May 6."
The culminating event of GSJC's 25th anniversary will be The Creation by Haydn at The Community of Christ Our Light in Cherry Hill on May 6 at 7:30 PM. Four professional vocalists and a 38-piece orchestra will join GSJC to showcase Haydn's magnificent work.
Tickets for all events are available through the GSJC website at greatersouthjerseychorus.org. For Vino Forte, the wine and cheese gala, tickets must be purchased in advance of the event. Discounts are available to patrons who purchase Cabaret, Vino Forte, and The Creation tickets in online subscription packages.